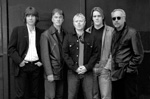 Staten Island singer-songwriter and blossoming star Ingrid Michaelson says she's still learning what goes into making a successful relationship. It's an unsurprising statement given the lyrical content of her increasingly popular release Girls and Boys. Tracks like the whimsical "Breakable," the angsty "Starting Now" and the longing-filled lay "Corner of Your Heart," among several others, all reflect on relationships, mostly gone awry. Despite — or perhaps due to — the past distresses stitched into her clouds-in-her-coffee ballads, one relationship continues to blossom for Michaelson, the one with an increasingly adoring fan base.
The relationship is certainly paying emotional dividends. Take, for example, Michaelson's reaction at a show at Rockwood Music Hall when the audience began to sing along.
"I almost cried," Michaelson says, before adding a second, even more inspiring instance at New York's Knitting Factory. "People were just screaming it out. Every single song. Even the ones that weren't on the album and were just up on MySpace."
Responses like those have become more common since Michaelson received her big break, scoring songs "Corner of Your Heart" and "Keep Breathing" on ABC's hit show "Grey's Anatomy." The latter was featured on the show's season three finale. Soon after, Michaelson found herself on "Good Morning America" and featured in the Wall Street Journal. To date she's logged over 1.8 million plays on MySpace, the forum where the "Grey's" producers first discovered her.
The placement on "Grey's Anatomy" served as the spark Michaelson had been looking for to propel a music career she had previously approached rather casually.
"I had been playing for about three and a half years and not very aggressively. I had other jobs and I thought, 'If it works out — great.' I was never a driven soul," Michaelson says. "I felt like I had been waiting for something to happen and shoot me off the ground a little bit."
Since the TV placements, Michaelson's popularity has reached an all-time high, though she also attributes her ever-growing fan base to a change in her writing style.
"The first album I wrote was very adult contemporary," she says. "It was piano ballads, full of 'oh, woe is me' and 'oh, how much I love him.' I was all about melody. Melody, melody, melody. Then I started listening to Death Cab for Cutie and Magnetic Fields and Sufjan Stevens and I realized that words are almost more important." Now she's added the sort of verse that coffee-house poets pine for, with lines like those in reminiscent love song "The Hat."
"So it's Christmas time / It's been three years / And someone else is knitting things for your ears / I have come to learn I'll only see you interrupting my dreams at night."
Despite the focus on seldom successful relationships, Michaelson doesn't let the weight of her lyrics drag down the fun of her live performances, however. Quite the contrary.
"It's like a comedy hour," Michaelson says. "I like the whole of performing. Making people laugh and including people."
Now that sounds like a recipe for a very successful relationship.
• Ingrid Michaelson performs at Jammin' Java Tuesday, July 17 at 8 p.m. Tickets are $10. For more on Ingrid Michaelson, visit www.ingridmichaelson.com.