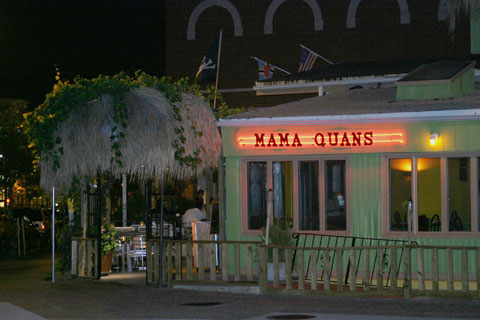 Where most dining establishments have trended towards complicated fusion tastes, gigantic menus and what can only be described as desperate gimmicks, one often wonders what ever happened to the restaurant that sticks to one thing and does that one thing fantastically.
Well, on ever-popular and hip 18th Street in Adams-Morgan, an establishment of that type is back, and it's proving to be exactly what the people ordered, judging by the lines to the counter.
M'Dawg Haute Dogs opened last month, a venture of the same couple, Scott and Arianne Bennett, who own Amsterdam Falafelshop directly across 18th. The couple has hired chef Greggory Hill to prepare the gourmet dogs, along with the rows and rows of toppings and condiments you'll have a difficult time choosing among once that dog is in your hand.
The establishment is a comfortable alternative to your sidewalk salesman; the service is fast and friendly, and the menu blissfully simple; your meal is going to be in a bun (although you will have a choice of white or wheat) and served piled high with whatever you wish, from coleslaw to chili to cheese, and even a few surprises you might want to try out before you load them on your prized meal.
No worries — tasting spoons are provided so that there's no chance of slathering a sauce that you'll end up detesting. Score one for the picky.
But maybe we're getting ahead of ourselves. Before you choose those delectable delights to put on top, you'll have to choose the dog itself. And you'll have a time of it. Most likely, you'll let a few patrons, in what is sure to be a long line, go ahead of you while you try to decide. There's the ever-popular Chubby for $4.95, a favorite to the employees of the joint. You can choose it mild or spicy, and it's good either way.
And if you're a transplant looking for a taste of home, regional dogs include the Wonderbrat, a Wisconsin-style bratwurst for $5.23; the Split Beefer, a deep-fried and grilled beef-and-pork New Jersey-style dog for $4.95; and the French Made, a spicy New Orleans-style andouille sausage for $6.73.
Condiments are $1 extra for the "uptown" offerings — you'll still get the old standbys for nil. Load it up with slaw, chili and cheese, or any of a variety of mustards and ketchup. No one here is going to judge you — just be careful not to spill once you've piled on beyond the laws of physics.
The brats and dogs are thick and certainly live up to the promise of "gourmet." These are not your average dogs, and you'll be pleasantly surprised with how satisfying they are as a meal. Share a basket of fries for $2.77 and a drink at the fountain with your friends for lunch, or even after a late weekend night out on the town — lucky for you, M'Dawg is open until 4 a.m. on weekends.
And if you prefer to leave the meat to the cows, M'Dawg offers veggie dogs as well as veggie chili upon request.
A point that is sure to make many excited — you won't break the bank here. There's a Kobe beef hotdog if you're willing to drop the dough ($20), but most of the fare is going to keep your wallet pretty stuffed, along with your stomach.
There's nothing wrong with a little satisfying simplicity in life.
The owners state their goal as "offering a fast-food that is a little above the standard fare." You'll be enjoying a favorite food of your youth in a grown up way. Don't be surprised if the staff of this fledgling venture come right up to you and ask how you liked your feast —and what they could do better.
They'll also be very understanding if you're a little overwhelmed by the choices. Feel free to ask questions and chat it up with the locals about their favorites. This is a friendly place that is sure to become more and more popular as word gets out — try and make it before the line is just too long to stand in.
It's quite difficult to wait patiently on while that glorious smell pervades the building and wafts out onto the street and right into your nostrils. You'll get hungry just thinking about it.
2418 18th St. NW, D.C.
202-328-8284
Hours: Sunday and Monday, 11 a.m. – midnight; Tuesday and Wednesday, 11 a.m. – 2:30 a.m.; Thursday, 11 a.m. – 3 a.m.; Friday and Saturday, 11 a.m. – 4 a.m.
Cash and all major credit cards accepted.