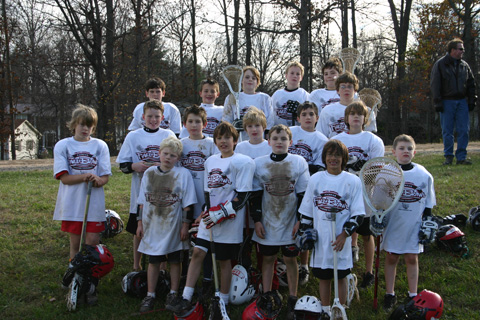 Lacrosse, the oldest team sport in North America, originated in Native American cultures as a method of cultivating assuredness and preparation for battle. Although the purpose of modern-day sport is no longer preparation for wartime, educators today recognize the positive aspects of having strong athletic programs for students.
With that in mind, JEB Stuart High School, in response to worldwide growth in popularity of the sport and wide-spread community demand for female opportunities in athletics, is this week celebrating the formation of its first varsity girls lacrosse team.
Lacrosse has enjoyed a steady swelling of popularity in recent decades, especially in the Northeastern United States. For women, opportunities are expanding not only at the high school level, but also at the collegiate level, with over 200 teams participating in NCAA Divisions I, II, and III.
Stuart is the last school in the county to have such a team — but that does not mean that it hasn't been on the minds of the community. Students report sending through several petitions over two years and getting their parents involved in the quest until the county and Stuart High School came through and formed the team.
Twenty-four young women from Stuart's student body tried out and were chosen to play in this inaugural season. Many of the girls, according to Stuart's athletic department, come from existing varsity sports such as field hockey and soccer.
Jennifer Leslie, a local English teacher and long-time lacrosse player, was recruited to be the team's head coach. Team mother and PTA vice president Diane Weeks found and contacted Leslie for the position, along with assistant coach Michelle Levin.
"I have received nothing by positive support from everyone I have encountered," said Leslie of the community and administration at Stuart. "We are having a lot of fun."
Until Title IX passed in 1972 giving women's sports equal rights next to men's, women rarely received such support in athletics. Research is now showing the benefits of physical activity and organized competition go far beyond physical well-being, and that encouraging young women to participate helps alleviate a plethora of maladies including low test scores, high dropout rates and teenage pregnancies.
Katrin Werner, a freshman on the team, describes lacrosse as "a way to let out my aggression." Others remarked that playing sports in general helped improve their time management skills and their overall ability to manage stress.
Published research across several disciplines backs up these claims. A recent report from the President's Council on Physical Fitness compiled research for an overall picture of the benefits of women's participation in athletics. It found that more girls and women are participating than ever before, and that sports are an asset in the lives of young women.
From medical doctors to educators across the board, girls and boys who participate in school sports do better in the classroom and in the workforce, as well as report being more well-adjusted in their personal lives.
Coach Jennifer Leslie agreed with this assessment and asserted that, in her experience, "[physically active girls] are less likely to engage in risky behavior."
But while the benefits of athletics are very clear, implementing strong physical fitness programs in schools can be difficult. Stretched public school budgets and programs like No Child Left Behind sometimes do not allow P.E. or athletics to be a central focus for schools.
Stuart has chosen to buck this trend and heed the wishes of students and parents by offering and supporting its women's sports with funding, as well as vocal encouragement. Concession stand proceeds offset costs, as well as general fundraising events such as Taste of the Town, according to assistant Stuart Athletic Director Brian Garvey.
Fairfax County is providing funding to cover all costs of the team save for sticks, cleats, and gloves. Safety equipment is brand new and provided to team members at no cost.
When asked what attitudes they were encountering since the lacrosse team formed from their classmates, many reported excitement –– even from male classmates. Senior player Valencia Vasquez remarked that many of her male friends were asking often when their games were and seemed interested in supporting the team.
"Boys lacrosse is already established," she said. "We're new."
While lacrosse has been a predominantly male-dominated sport, women's teams have been steadily taking hold all over the country. Men and women's teams are usually made up of cross-over players who played traditional sports for years, tried lacrosse, and became hooked on the adrenaline and non-stop nature of the play.
Things are no different for Stuart's lacrosse players who report having participated in field hockey and soccer predominantly before choosing to take up lacrosse as a second sport, while others have been playing it since they were 10 and 11 years old.
"I started in eighth grade and refereed in high school for younger kids before the team started this year," reported Fiona Webber, a senior on team. Other team members report similar stories, while some stated that they were very new to the sport.
Despite the unfamiliar territory on which many of Stuart's girls lacrosse team may be treading, they are looking ahead to the future of the team. They see themselves as a group of girls who want to be the foundation of a program with a bright future and many wins to claim. Right now, they know that they are competing against well-established local teams, and their goal is to build the team up from nothing — and maybe win at least one game.
The Raiders Girls lacrosse team will play their first home game this Friday at 6 p.m. against Freedom High School.