Valentine's Day approaches. Pink and Red roses will be sold on almost every street corner as last minute gifts. Godiva chocolate-covered strawberries will be snapped up on the way home from work. Hundreds of mylar balloons will be filled with helium over long lunches.
Restaurants reservations, however, must be planned in advance.
In order to have a drama-free night with your special someone, you need to find someplace that they will enjoy — a place where the setting fits the mood of your relationship, and the food fits your budget. Fortunately, the greater Falls Church area is replete with options for everyone and the News-Press recently set out to see where the men and women on the streets of F.C. will be dining on Feb. 14.
Sitting at a Starbucks on Broad Street, Grace, offered her favorite spot to dine with her husband.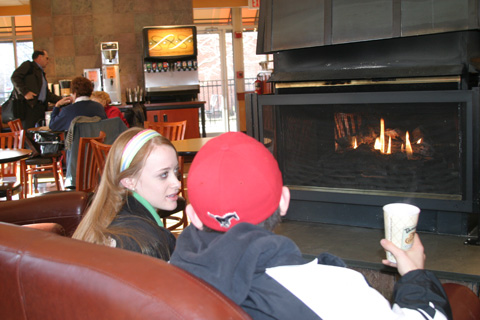 "We love Lebanese Taverna," she said. "The hummus is delicious as an appetizer and we usually order many small meals [Mezza] and split them between the two of us."
The stone-covered walls and bright lanterns add a Middle Eastern touch to this sophisticated eatery inside of Tysons Galleria.
"All of our meals are designed to be shared, whether they be finger foods or Mezza dishes," Megan, a representative of Lebanese Taverna, explained. Such a concept could lead to a downright "Lady and the Tramp"-like moment, and after the meal, a lively bar lets couples linger as they sip on cocktails.
Jodi, a junior at George Mason University, happily relayed her dinner plans with her boyfriend. "[We] will be going to our favorite Italian restaurant, Da Domenico. It's just a really romantic spot," Jodi said about the restaurant that sits between Leesburg Pike and Chainbridge Road in McLean.
Visiting this candlelight dining establishment, Jodi's assessment was on the mark. From the white linens and intimate table settings, this restaurant was made for couples to celebrate.
"We are known for our famous veal chops a Northern Italian delicacy, and our very private couple's booths," Da Domenico's manager, Ambrosgio, said. The restaurant specializes in expensive Italian and American wines (including a vintage red at $450 a bottle) and also, apparently, live opera.
"I do not want to be forward … but I love to serenade," Ambrosgio added, saying he usually breaks into song more than once a night.
Not everyone can afford a $450 bottle of vino — some can't even buy one legally. So where do the young lovers of Falls Church head for romance? Anna and Josh, two students at Falls Church High School, answered quickly: Panera Bread.
"We can't stay out too late, so we like to grab lunch, sometimes dinner, or enjoy a cookie and hot chocolate," Anna said.
Considered a frequent hangout for teens in the Falls Church area, Panera has gained quite a reputation, but was it worthy of being called romantic? Yes, the consensus of high school regulars said. The low-priced meals and snacks, with a lounging atmosphere, keep their significant others happy.
"Romantic?" Hakim Riad, manager at the Falls Church Panera Bread, said in reaction. "Not sure what they mean by that. I guess they take advantage of our free Wi-Fi."
Wi-Fi? What about the toasty fireplace and an assortment of fresh brewed coffees? Regardless, on Valentine's Day, Panera is probably best left to those still in grade school.
Bill and Marie, who have been married for "seven glorious years," recommend The Chart House in Old Town Alexandria, saying it is the ideal romantic spot for couples. With views of the Potomac River and excellent seafood, this restaurant provides great service at a moderate price. After dinner, walk the graveled path along the river and enjoy the vivid skyline before you. It might be cold outside, but that just gives you extra incentive to cuddle up and stay close.
Barb and her daughter were finishing up a mixed salad at the eatery Cosi, when asked where she goes with her husband when they want to spend some one on one time. "Well, if we can get a sitter, we usually go to Neisha Thai Cuisine in Tysons. I order their Thai Iced Tea first, then Chicken Satay and Panang Curry. My husband and I eat from each other's plates," she smiled. "The ambiance is soothing and relaxing, the presentation is very romantic, we love it, and it's close, just down route seven in Tysons Corner Center."
But what about the male mind set?
"I plan on sending a dozen roses to her house and ordering pizza to her Fairfax apartment," said George, an accountant for In Step PC, as he strolled in with two of his friends to Elevation Burger on Lee Highway.
Marcelo, a salesperson for Verizon, unlike his friend George, has chosen a classier alternative. His restaurant of choice is Hoang's Grill & Sushi Bar.
"My love for my Asian girlfriend has sparked my love for Asian food."
Decorated with bamboo and tea lights at every table, Hoang's projects an intimate atmosphere. "Our cozy ambiance and traditional-yet-contemporary setting draws in customers,"LyLy, the restaurant's manager says.
Marcelo recommends all of their sushi, but if that scares you, try the Pad Thai or another one of their Vietnamese, Thai or Japanese dishes. For a final romantic flourish, treat your special someone to the 32-inch fondue fountain that will be serving decadent chocolate to customers on the 14th.
Valentine's Day is, unfortunately, not a day for singles. "I try to ignore the heart balloons and heart candy," Christine, a junior at George Mason University, shrugged. Dimitri, owner of Milano's Pizzeria, found himself in a similar situation. "I am currently single and planning on going to a bar and finding my Valentine."
If that is your situation as well and you don't plan on making it a date with Jack, Sawyer and the "Lost" crew on ABC this Valentine's Day, swing by the Broad Street Tavern for their Valentine's Day Dance. Relive the glory of your high school days while dancing to '80s hits and karaoke starting at 9 p.m. Maybe you'll meet someone before last call at 1:30 a.m.
Of course if you're well beyond first dates and would really like to wow your sweetheart, then consider a trip to the shining dining jewel of Falls Church — 2941. From the beautifully landscaped babbling brook and the restaurant's scenic spot on the edge of a lily-covered pond, the acclaimed establishment on Fairview Park Drive will certainly leave a lasting impression. Now featuring black truffles and Kobe beef, 2941 is offering a special Valentine's Day menu that includes a post-meal chocolate tasting and after-dinner treats. The meal is prix fixe and includes four courses in addition to an amuse bouche and the aforementioned desserts for $130 per person.
For some residents of Falls Church, the days of expensive meals are long gone. For that matter, so are the days of dinner after sunset. For them, Steve and Macy, a pair of retired government workers, suggested Joe's Place Pizza and Pasta for senior citizens who want to go out and enjoy a good meal with their spouses.
"Dinner is usually around 5 p.m. for us, and it's somewhere that is close and convenient, where we can mingle with our friends." Macy said. Open since 1975 Joe's is a cozy neighborhood restaurant, with big portions of homemade lasagna and ravioli. Steve added that many seniors frequent this eatery and enjoy what Joe has to offer.
"Sometimes we bring back some Gelato for our grandson Michael," Steve said. "They have some good Gelato."
---
Romantic Recipes
If staying in for the night is more your speed, a pair of local chefs dished two dishes that will turn you into the Don Juan of the dinner table.
Argia's Rack of Lamb
Ingredients: 2 lamb racks, cleaned and frenched; salt and pepper.
Special Equipment: An ovenproof skillet/cast iron skillet.
Directions: Preheat oven to 450 degrees F. Bring lamb to room temp. Season with salt and pepper. In an ovenproof skillet, seat the lamb over high heat until golden — about 5 minutes. Place the skillet directly in the oven on the middle rack and roast for 10 minutes. Lower the oven temp. to 350 degrees F and continue roasting for another 15 minutes. Allow the lamb to rest for 10 minutes before slicing.
The 4 Ps' Bailey's Irish Cream Mousse "Martini" w/ Chocolate Dipped Strawberries
Ingredients: ½ lb. white chocolate; 1 cup heavy cream; 4 oz. Bailey's Irish Cream. (For garnish: 4 large strawberries, with stems; ¼ lb. chocolate.)
Directions: Melt white chocolate. Whip Bailey's and heavy cream until stiff. Fold in white chocolate and refrigerate. Melt milk chocolate. Hold strawberries by stem and dip in milk chocolate, covering half. Lay on plate and refrigerate.
To Serve: Pipe or spoon into martini glass. Serve "Martini" on small plate garnished with 2 chocolate covered strawberries.