'Fresh Paint: Process and Possibility'
Through January 27 at Arlington Art Center, 3550 Wilson Blvd., Arlington, Virginia. Gallery Hours: Tuesday through Saturday 11 a.m. to 5 p.m. Call (703) 248-6800, or see www.arlingtonartscenter.org.
Paint' is more than anything about the boundaries of what 'painting' is today, and as such, it's a process (or technique), oriented show. You're strength is your weakness, so it's not too surprising that this show rises and falls around the process theme.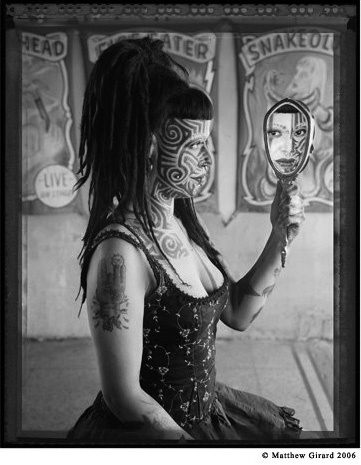 You might call this the OSHA show. A high percentage of these fourteen artists are working in fairly toxic conditions. One grinding on dried paint, and a whole batch of them using epoxy resins and the like. It's good work, but you have to wonder about the long term health of these folks. Anybody up for asbestos sculpture?
Abstraction abounds, and we're all the richer for it. For me the strongest piece here is Byron Clercx's 'Recto/Verso #596-7; Entropic Entelechy'…. whew. In case 'entelechy' doesn't pop up in your daily conversations, the dictionary says "In some philosophical systems, a vital force that directs an organism toward self-fulfillment." Couldn't have said it better myself. The left panel of this diptych being a reasonably flat field of black, while the right panel carries a multi hued heavily distressed field of paint. It's a raw, energetic, and forceful panel juxtaposed to the visually silent black panel. It's clearly working off the notion of being and not being. Life and death. Cacophonous daytime activity vs desolate nocturnal solitude. (Note: the smaller white panel to the left, which plays off the black side of this diptych…. it's the cover for the light switch panel, it's not art.)
This is good stuff. I could live with this piece for a long time. Standing before it I had the thought that were Pollock still alive, he would be doing something like this. There's nothing wimpy about this work. It's gritty two fisted tough, traveling at 140 miles an hour. down the highway of life. It's more alive than just about anything I've seen in some time. Bravo!.
Directly across the room is Anthony Brock's acrylic paint skins. That being paint sans supporting structure, such as canvas or board. These remind me of Sam Gilliam's draped works. I love the humor of Brock's 'Mop' downstairs. A paint skin used as mop head mounted on mop handle. Irreverently placed on the floor. It's a moment of much needed levity, in a fairly serious show.
At one end of the main gallery we find Kevin Kepple's abstractions. These have a deceptively complex form. At first glance they seem almost dismissively simply. Upon close inspection you discover richly textured matrices of complexity. There's a vaguely biological aspect to them. One seems like layers of blood cells, another like a cross sectional slice of bone. All seemingly under high magnification, as if we were being offered glimpses of hidden worlds. Nice work.
Eric Finizi's portraits of Augustine, a 19th century psych-ward patient, occupy the other end of the gallery. I've been at war with myself over these works for several weeks. After repeated viewings I've come to some sort of truce over them, but I still have my suspicions. At first glance they're reminiscent of Francis Bacon's work. Not bad. But…..here is where things begin to unravel for me. Eric is one of the resin heads on display here, and as such it's hard to know where the line lays between technique and skill. If resin work were a common thing we'd have a much easier time of it, but it isn't, so we have to figure it out on our own. There are fairly incriminating statements in the supporting materials, and images in the book at hand seem to support the questions that arise. The fact that these images are based on historical photographs isn't helping either. This is the danger of doing process heavy work. How much is the process, how much the hand of the artist?
Warning: water in the electrical room…. Downstairs you'll find Stephan Prosky's solar powered robots. This stuff is tripping all sorts of circuit breakers for me. Art is an act of humanity, a way or relating to the world around us and communicating with others what it means to be alive. Plastic bags of silicon gel are not breasts, vinyl siding is not wood no matter how much wood grain you emboss it with, and robots do not make art. Repeat after me. 'Fake is bad, real is good'.
Sometimes you try to push the envelope and the envelope breaks. The design, programming, and building of robots could all fit under the mantle of art and design. I don't care what sort of art babble you write to go along with it, robot droppings on paper are not art. One can compare these to the obsessive dot drawings by Amy Lin (at DCAC though Jan 14), and in roughly a nanosecond tell which one is art. Lin's drawings, which ironically are more machine like than the robot drawings, are full of life. They pulse and flow, rise and fall. These robotic inkings are static lifeless and frankly demoralizing to see on a gallery wall. But what do I know? Millions of women get implants, and subdivisions are full of vinyl siding. Maybe robot drawings are the next big thing. God help us all….
"Fresh Paint" is an excellent show, that will indeed stir up some brain activity about what is and isn't art.
Linda Silk will have four of her hand painted silk kimonos on display at Curves through January 28. Opening reception Friday January 5, from 7 to 8:30 p.m.. Work can be seen by women during normal business hours, weekdays from 8 a.m. to 6 p.m. Men will need to make an appointment after the opening. Curves, 240 West Broad Street, Falls Church. Phone (703) 241-4012.
"Color and Shape," through February at Park Avenue Gallery in Falls Church Art and Frame, 111 Park Avenue in Falls Church. Opening reception from 6 to 8 p.m. Friday, January 5. Features the work of three local artists, Susan Gillerman Boggs, Marcia Dale Dullum and Anne Rechter. Regular gallery hours: Monday through Saturday, 10 a.m. to 6 p.m. For further information see www.FallsChurchArts.org