Before Snow Patrol and Franz Ferdinand led this latest wave of sonic Scots across the pond, Simple Minds and Big Country were topping U.S. charts with hits like "Don't You Forget About Me." Think about the commotion that those first two talented bands have made of late, then think about the hubbub that would be created from Snow and Franz merging into one super group. Then maybe you'll understand the excitement generated when Minds' Derek Forbes and Mick Macneil and Big Country's Bruce Watson joined forces with H20's Ian Donaldson to form FOURGOODMEN.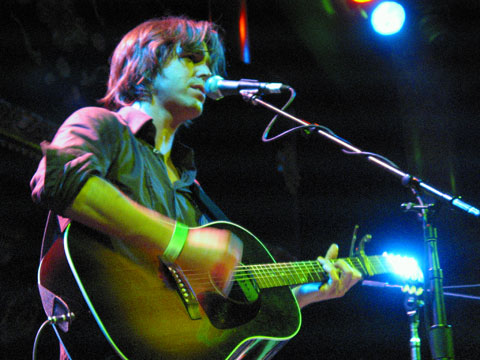 Several years after parting from the company of their respective bands, the group formed one of the most decorated so-called super group partnerships of all time. Between the four members, they had charted eight No. 1 hits and sold more than 40,000,000 albums.
When the band debuted in July 2005 at a festival in Glasgow, it had been almost 24 years since Watson first started playing with Big Country. Between then and now he's had more than a couple opportunities to walk away from what has already been a celebrated career, including when Big Country disbanded in 2000. Still, Watson kept returning to music, first in a collaborative project with Fish in 2002 and now with FOURGOODMEN. However, his continued returns to his art do not mean it has always been a clear cut decision.
"It's a love hate relationship with music. It's like a marriage," Watson jokes from his home in Scotland. "When I'm playing the same old stuff, I get bored pretty quickly. Writing for someone new got me interested again."
For now FOURGOODMEN have been delving into the back catalogs of both Minds and Big Country, performing new interpretations (mainly through the incorporation of pipes and squeezebox) of hits like "Someone, Somewhere, In Summertime" and "In a Big Country."
"I've been playing these songs for 25 years, so it's good to give them a slightly different slant," Watson says.
They had originally planned to stop there, figuring to just play the remixed hits at festivals in their home country, but a series of warm receptions has pushed the foursome to work on some original tracks. Four new songs are already finished, with another 12 "in the queue to be born," Watson says.
The band hopes to have an album out by next summer. In the meantime they'll embark on a tour across the United States, one that stops at Jammin' Java next Tuesday, Nov. 28.
They'll be looking to rekindle some of the Stateside following that tracked Minds and Big Country back in the day. Watson says those fans ought to enjoy the throwback tracks and will also be able to spot hints of FOURGOODMEN's origins in the newer compositions.
Watson acknowledges that despite the super group tag, the ensemble might never reach the heights of Minds or Big Country, but he does hope the project will take flight — specifically wishing that one of their songs will land in a Coen Brothers movie. Right now, however, he's content to focus on pulling off a successful tour.
"We're treating it kind of like a paid vacation. We're going to have a little bit of fun with it."