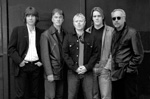 Matthew Ryan is an idealist, a fact that may surprise those familiar with his work. Never mind that his albums are laden with ballads, or that he sings like he sports a leg iron from his right ankle, or even that he openly says he has never written a "feel good" album. Matthew Ryan is a dreamer.

"Cynicism is so rampant today," Ryan says. "Without idealism, there's no romanticism and without romanticism there's no hope."
It could be a cliché, until you realize how easy it would be for Ryan to be a cynic himself. After all, he began writing his latest album From a Late Night High-Rise to cope with losing a close friend to cancer, and the news that his brother was to spend the next 30 years in prison. Ryan will be 60 when he sees his brother outside of prison walls again. Clearly, this is a man that needs hope.
So no, Ryan has never written a "feel good" record. And yes, his song "And Never Look Back" of High-Rise, features the not-so-jolly lyrics "I should make a list of every near miss / everything that fell and brushed my fingertips / I'm shattered / gone is the wait and see." But beneath the shadows of every song, there is hope.
"It's about survival and perseverance," Ryan says. He voices that sentiment in his song "Babybird" when he takes inspiration from the trials of African Americans in the South, and solace in the fact that, with a push, change did come. Even in a grim situation such as that, people still controlled their own destiny.
"I want people to be the leading men and women in their own lives," Ryan says. "I want the records that I make to bring beauty to their own cinema."
That feeling of empowerment is something Ryan always loved about music, and why he fell for bands like The Clash and U2.
"U2 gave you the feeling that you could do something, either quietly or boldly," Ryan says, preferring the quieter method himself, namely through his song writing.
As much as High-Rise was about catharsis, the process of song writing remains an enjoyed practice to Ryan.
"It's my favorite thing to do," Ryan says. "At times I've really struggled and at times I've lived comfortably." Those latter times were no doubt linked to Ryan's extensive relationship with "One Tree Hill" and "Dawson's Creek," with both shows prominently featuring his music. He's also appeared on "Late Night with David Letterman," and played for Conan O'Brien twice.
But more than a means to money, Ryan takes pleasure in the power of creation and, in turn, the impact it has on his audience.
"It's an amazing experience to create something out of nothing," he says. "That song didn't exist before you finished it.
"You can't grab it, put it in a frame, but nothing means more to me than when someone comes up and tells me what one of my songs meant to their lives."
Fans of Ryan's music will have the opportunity to do so when he comes to IOTA Club and Café Nov. 6 with Thad Cockrell, David Mead and Michele Malone for their "Gang of Songwriters in the Round" tour.
"We want to give you the opportunity to come to a show and let you hear a bunch of good songs that you wouldn't hear otherwise," Ryan says, noting Clear Channel's mandate that radio stations stick with the same 50 songs or so. "We're going to be a 3-D radio station that plays good song after good song … as cheesy as that sounds."
After this tour wraps in the middle of November, Ryan will turn his focus to finishing up High-Rise for its Dec. 5 release and then take his show back on the road in February.
"I want to keep moving," Ryan says. "It's important that songs have a community around them and I want to grow that."
And, ideally, that growth won't stop any time soon.