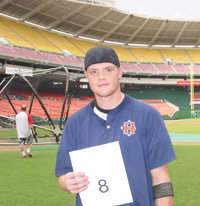 GEORGE AND JOAN BURGESS were recently rewarded for their tireless and selfless labor in bettering the Cherry Hill Farm when they were awarded their own day, Oct. 16, by City of Falls Church Mayor Robin Gardner. (News-Press photo)


The Art of Nicaragua
Nicaraguan Visual Arts features dance and music of the colonial comedy El Gueguense and other folk dances, which will be performed by Ronald Abud's Nicaraguan Folk Ballet, on Oct. 20 at 6:30 p.m. This event will take place at Enrique V. Iglesias Auditorium at 1330 New York Avenue, NW, Washington, DC. On Oct. 21 and 22. Other events will also take place in the Smithsonian Institution, 4th St and Independence Avenue, SW, Washington, DC at 1 and 4 p.m. as well as in the Capital Reflecting Pool at 12 and 3 p.m., which will be featuring the dance of "La Gigantona." The Nicaraguan Visual Arts will continue through November 2. For more information contact the Nicaraguan Embassy at 202-939-6570.
Unity Within a Community
McLean Community Connection hosts its 5th Community Dialogue on Thursday, November 2, 6:30 – 9:30 p.m. at the McLean Community Center, 1234 Ingleside Avenue in McLean. For more information, call 703-324-3453.
White Cane Safety Day
The Governor of Virginia makes a proclamation to the Commonwealth to assert that October 15 is White Cane Safety Day, as it has been declared by the President in the past. On September 25, this day will be made familiar to the rest of the county by the Fairfax County Board of Supervisors.

Fighting Prostate Cancer
Marina Del Rey, Calif. helps treat men with prostate cancer. Join in on the discussion of how hormone blockade is effective in the treatment of prostate cancer in men on Saturday, Oct. 2 at 3:10 p.m., which will take place at the Hyatt Regency Reston Conference Hall, 1800 President Street, in Reston. For more information, call 310-827-7707.
Exhibits on Children's Programs
Arlington Area Preschool Fair will take place on Oct. 25 at St. Thomas More Cathedral School, 105 North Thomas Street in Arlington, 10 a.m. – 12 p.m. This event is free. A number of preschools, private schools and early childhood learning centers will exhibit and discuss their programs. For more information, call 703-528-6781.
Mammoth Library Book Sale
Join George Mason Regional Library's used book sale Thursday Oct. 19 at 5 p.m. through Sunday Oct. 22 at 5 p.m. as they celebrate Mammoth Book Sale's 30th anniversary. Books for all ages as well as CDs, videos, recorded books and rare items will be available. The library is located at 7001 Little River Turnpike in Annandale. For more information, call 703-256-3800.

Walk for the Homeless
Join Reston Interfaith's Walk for the Homeless on Sunday Oct. 22 at 2 p.m. in Reston. Registration is $15 for youth, ages 25 and younger, and $25 for adults. For more information, contact Meredith Young at 571-323-9566.
Strengthening Our Community
Reston Interfaith offers interactive activities for youth and adults for the purpose of strengthening the community. These activities will take place at St. Anne's in Reston after the community walk at around 3 p.m. For more information, contact Meredith Young at 571-323-9566.
Enlist for an Award
Reston Interfaith and the Greater Reston Chamber of Commerce seek nominees for the 2007 Best of Reston Awards. If you are a business, organization or just an individual who is committed to your community and have done community service, you can enlist for this award. Nominations must be received by 5 p.m. on Monday Oct. 30, 2006. For nomination forms and for more information, you can stop by the Reston from the Greater Reston Chamber of Commerce at 1763 Fountain Drive or Reston Interfaith's Office at 11150 Sunset Hills Road, Suite 210 or visit either www.restoninterfaith.org or www.restonchamber.org.
Achieving Higher Math
Vern Williams lectures on math education on Oct. 23 at McLean High School's cafeteria, 1633 Davidson Road in McLean at 7:30 p.m. Mr. Williams, who is one of the 17 experts appointed to the National Mathematics Advisory Panel, will discuss the trends in math education and his views on how school should teach gifted students. The event is free and open to the general public. For more information, contact Louise Epstein at 703-917-7960.
Now Serving at the American Red Cross
American Red Cross of the National Capital Area announces a new Chairman of the Board of Directors, Wendell Johns, on Oct. 4 during its annual meeting at the National Press Club in Washington, DC. Other new board members were also announced.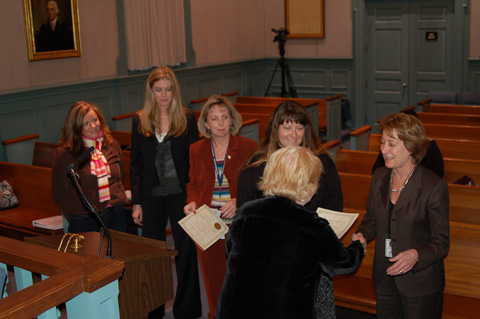 Dress-up Your Pet
PETCO holds its annual Howl-o-Ween Pet Costume contest beginning Saturday Oct. 28 at 2 p.m. The best costumed pet and its owner will receive an eight pound bag of IAMS dry dog or cat food and a $15 PETCO gift card. All participants will receive a goody bag full of treats from PETCO's treat bar. For more information, call 858-657-2086.
Halloween Costume Parade
In conjunction with the Fannie Mae Help the Homeless Walk, Food for Others will hold a "mini-walk" Halloween Costume Parade and Costume Contest. This includes age appropriate activities, book corner and an open house at our warehouse. The mini walk will start at 11 a.m. and will continue from the Food for Others Warehouse to the Caribbean Court and back. The cost is $15 per child and $25 per adult. For more information, call 703-207-9173.
PRS Makes Falls Church Sparkle
Marty Deahl, the PRS Falls Church Dual Diagnosis Coordinator, led the PRS Day Program in cleaning up litter and debris from the 100 and 200 blocks of West Broad Street on Thursday Oct. 5. As part of Clean Fairfax Council's Adopt-a-Spot program, PRS Falls Church clients have been cleaning up their assigned blocks twice a year since April 2001.
Voice of the Abused
The Voice of the Faithful-Northern Virginia affiliate sponsors a peer support group for survivors of clergy abuse and others affected by the abuse on the last Wednesday of every month. The next meeting will be held on Wednesday Oct. 25 at 7 p.m. at the Dolly Madison Library, 1244 Oak Ridge Road in McLean. For more information, contact Ellen Radday at 703-538-6128.
Dance, Dance, Dance
Join the dance parties! Ballroom, Club Swing, and Salsa dance lessons start Wednesday Oct. 18 at the First Christian Church of Falls Church, 6165 Leesburg Pike. These sessions are 6 weeks long, meeting once a week. The Ballroom is at 7 p.m., Club Swing is at 8 p.m. and Salsa is at 9 p.m. The cost is $100 per couple. For more information or to reserve a spot, call 703-989-1339.
A Team That's Changing Lives
The Leukemia & Lymphoma Society's Team In Training (TNT) recruited volunteers to raise funds as they trained to walk, run, cycle or swim in honor of local patients on October 10. These volunteers got in shape, made lasting friendships, and helped save lives by helping in the fight against blood cancer. For additional TNT information, call The National Capital Area Chapter of The Leukemia & Lymphoma Society at 703-960-1100.
DC Goes Green
Washington DC hosted world's largest environmental expo this past weekend. Eco-Green Living store was showcased as the region's premiere green business. For more information on Eco-Green Living, visit www.eco-greenliving.com.
Weichert, Realtors Honors Top Associates
On Oct. 17, Barabara Stone, branch manager of Weichert, Realtors' Arlington Office, announced that several sales associates have been honored for their achievements in September. The list of honorees include: Ron Cathell, David Lloyd, Matthew Shepard, Ronnie Molina and Michael Elton. These real estate professionals can be reached at 703-527-3300.
Mayor Proclaims Holiday In Falls Church

City of Falls Church Mayor Robin S. Gardner recently declared October 14, 2006 as Joan and George Burgess Day at a City Council meeting on October 10. Joan Burgess joined the Friends of Cherry Hill Foundation in 1987 and has served as a board member since 1994, while George began repair and restructuring of the barn at Cherry Hill Farm in 1994, salvaging approximately 60% of the original wood. Both Joan and George Burgess have made significant contributions to the community through substantial improvements to Cherry Hill Farm, a site now listed on the National Register of Historic Places and registered as a Virginia Historic Landmark.