George Mason High School's Susanna Sullivan embraces running for camaraderie, but there is no denying her immense natural talent.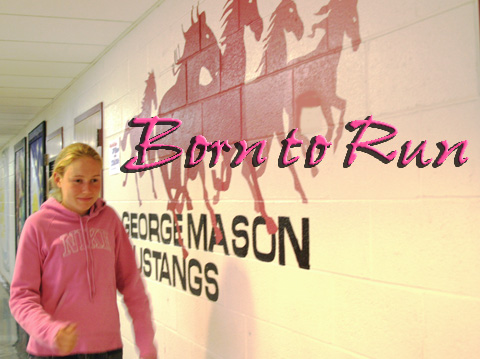 It was the team atmosphere that drew George Mason High School's Susanna Sullivan into running, but it was her own toughness and determination that has made her such a stunning success in her first two years with the Mustangs' cross-country and track teams.
Simply put, Sullivan is the most gifted female distance runner to grace Mason's campus since the graduation of Colleen Winzeler in 2000. As a sophomore last spring, Sullivan's meet-record time of 11:05 in the 3200m at the Region B Championships was a full 40 seconds faster than her closest competitor. She finished second in the state in the 1600 and 3200m, and qualified for the Nike Outdoor Track Nationals, where she placed 31st in the two-mile event. She qualified for that event by posting a converted time of 11:01.51 in the Southern Track Classic, good for a third-place finish.
More relevant to this season, Sullivan has been no slouch on the cross country course either, finishing third in the state last fall.
"She is someone who uses her natural talent to its maximum by working hard and doing the little things," says Julie Bravin, Sullivan's coach for both cross county and track. "Her motivation and determination to succeed are what make her successful. She is an extremely strong runner both mentally and physically, and that's what equals her success."
The path to that success began when she took up running in seventh grade, racing two-milers for her middle school team in Tennessee.
"My sister's [2005 Mason High School graduate Sarah Sullivan] high school team was really nice," Susanna says. "I started running at my school because I wanted to have a team like that. It was a good introduction to running."
Following the move from Tennessee to Falls Church, Sullivan's love of the sport has not only garnered her athletic success, but friendships as well.
"Being at Mason has allowed me to find the closeness that my sister's team had," she says.
"She is an excellent teammate," Bravin says. "She encourages her teammates in workouts and races and helps them if the need it. As team captain with Elizabeth Fortenberry, the two of them have done activities to make the team closer — lunches, trips to the movies, t-shirts, etc. The two of them together have made a definite impact on the closeness of this team."
She's also had an impact on the team's competitiveness as well, something that they'll look to maintain as the Mustangs head into the Bull Run District Championships next Wednesday.
Both teams head into the meet after pitting themselves against some stiff competition at the Glory Days Grill Invitational. The girls team placed 21 out of 24 teams, while the boys were 28 of 36 in the Varsity B race. Individually, Sullivan placed 17th with a time of 19:13.
At the district meet, Mason will bump up against perennial powerhouse and established rival Clarke County. The teams met recently on Oct. 11, with the Eagles prevailing in both team competitions, though Sullivan won the girls race over Clarke's Sophia Holmes with a time of 19:26.
"We are all competitive, but we appreciate the challenge of racing each other," Sullivan says of her polite rivalries with other district runners. "We wish each other luck before a race and congratulate each other afterwards."
"Susanna always has a positive attitude," Bravin says. "She's ready to work hard, plus, she's very smart about her training. She will do whatever it takes to be her absolute best."