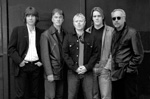 It was never going to happen.
A few years had past since the Gin Blossoms had disbanded in 1997, and now guitarist Scott Johnson was starting to detect a certain permanence to what he had thought might have just been a temporary hiatus.
"We didn't play together for five years. We lost contact with one another," Johnson says. "Robin [vocalist Robin Wilson] had released a record with his new band and if that album did well I thought we'd never play again."
But there were bumps in the road for Wilson and his band was caught in the A&M Records maelstrom following its sale to the Seagrams corporation in 1998. After some valiant attempts at salvation, his new band began to crumble without a prominent backing label.
In the months thereafter, Johnson received a call from Wilson. He told Johnson that he had been getting together to play with former Gin Blossoms bassist Bill Leen.
"My first thought was 'why?'" Johnson recalls. But soon he joined them, and in turn the trio re-enlisted guitarist Jesse Valenzuela. After a millennium reunion show in Phoenix they decided to make another go of it, reforming under the Hybrid label, headed by former A&M exec Al Cafaro, in 2002.
The band actually received a higher offer from Universal, who absorbed the remnants of A&M's artists following the Seagrams sale. However the label only wanted to put the album out as a catalog item, with no radio promotion of any kind. That didn't sit well with the group that had topped charts with hits like "Hey Jealousy," "Found Out About You" and "Follow You Down."
"We are a radio band," Johnson says. "We write three-and-a-half minute songs. That's our niche."
The band filled that niche perfectly with their new release, Major Lodge Victory, their first release in 10 years. Victory reminds absolutely of Gin Blossoms' early-90s hits. ("It sounds a little bit more Southern California-ish, but we didn't try to reinvent the wheel or anything.")
The band has had to face a musical landscape that, in their absence, has been revolutionized by satellite radio and internet sites like My Space.
"A friend of ours actually started it up for us, and then enlisted us to answer all the questions they received," Johnson says. "We started with 2,000 friends and now we're up to like 18,000 … Of course I'm still learning how to type so, things would probably get answered faster if I could do that."
The adaptation is progressing though. They recently cranked out some live pieces in D.C. for XM radio and now they're coming back through the area for a show at the State Theatre this Monday, Oct. 2.
Once the third leg of the tour wraps next summer, they'll turn their attention to their next album.
"We're a ways off from that though," Johnson says. Hopefully not 10 years off though.