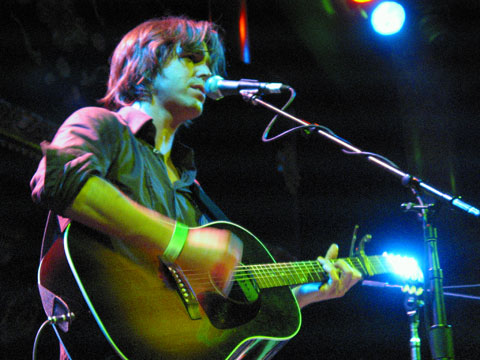 His words are misleading almost, deceptive in their sparseness, as he describes his writing process.
"You tell stories that are taken out of your experience. Some you make up. But it's something that resonates and has some connection," says Americana artist Peter Bradley Adams.

It sounds so easy, so simple, and maybe to Adams it is, but that description belies the intricately woven and downright voluminous tracks found on his debut LP Gather Up. The album seem as though Adams has transcribed the world around him and turned it into music.
There's a story from his past that tells of how he would perch beneath his grandfather's piano, ear flush against the wood, listening. It's a fitting anecdote because Adams apparently listens very well. He listens to the world around him, and to the hearts of those who walk it. And when he's done listening, he creates a near-perfect emotive score. If you've ever wondered what sunshine sounds like after the rain, take a listen to "One Foot Down." Then there's "Teresa" where the weight of worldly burdens depress the organ's keys as much as Adams' fingers do.
It's no wonder that Adams, who formerly comprised half of eastmountainsouth, got his start scoring movies in Hollywood (his music was recently featured in music junky Cameron Crowe's Elizabethtown). Nor is it surprising that his work falls under the label of Americana, not so much for the sound itself, but for the way his songs encapsulate the varied lives of those living in this broad and complex country of ours.
Now on his own, Adams's type of emotional/sonic alchemy emerges even more with the help of L.A. bud Susie Suh, a rising star in her own right. She, along with Sara Bareilles and a bevy of other talented backing musicians, joined Adams at his home to record the self-produced Gather Up.
Adams is currently on the road, and in the area. He plays Jammin' Java, Friday, Sept. 1 at 7 p.m.
Off Track
Butter Sweet Spices Up Scene

You don't often find Moldovan rock stars in the City of Falls Church, nor lead singers bearing the moniker of Celeste Starchild. However, hang around the Broad Street Tavern on Sept. 16 and you'll see both of them.
Introduce yourself to Alexandria's Butter Sweet. A guess as to the etymology: The butter refers to the band's smooth blues sound, while the sweet refers to their kind character. After all, they're performing at The Front Page in Ballston to benefit the Diabetes Foundation on Aug. 31.
Of course, the sweetness could also refer to the smiles the group has put on fans' faces following their performances.
"People have been pounding down the door for a CD," Starchild says.
They're in the studio now, recording and album as they pursue the next step in their musical career.
"Butter Sweet was born out of a spirit that you go out in life and grab what you want, not wait around for it," Starchild says.
You can check out Butter Sweet at a bevy of local venues, including shows at Jammin' Java (Sept. 3) and Austin Grill in Alexandria (Sept. 9).
Moonlighting Music Man

Local music fans know him as the frontman for rock outfit Face to Glass. George Mason High and Mary Ellen Henderson Middle School students know him as Mr. Powell … their music teacher.
"I think all of my students know that I'm in Face to Glass," Powell says. "Although I think some think I'm still a student."
This year, Powell's own music career reached new heights when he was handed an international songwriting award by songoftheyear.com for his tune titled "Tell Me."
The award is even more impressive when you consider judges include Norah Jones, Sheila E and Rolling Stone staffers.
He's performed for another batch of critics too … his students. Those instances have been a little rare due to the lack of all ages shows in the area. And when they do come along, sometime the kids need some extra prodding.
"I try to entice them with some extra credit," he says. "They usually say it was better than they expected though."
You can see Face to Glass every Wednesday, free, at Fat Tuesdays in Fairfax. Elsewhere, they'll be playing at the Firehouse Grill Sept. 1 and an all-ages gig at the Come in Union Block Party at St. Mark's on Sept. 16.