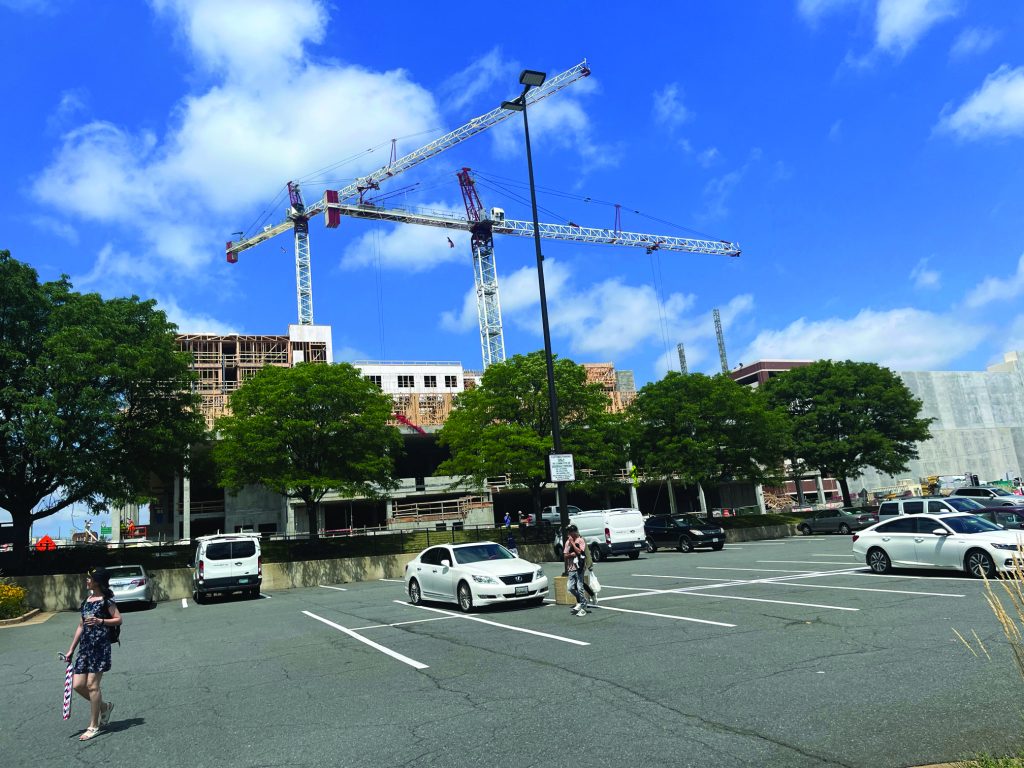 On the 10 acre site now under development by Hoffman and Associates at the west end of Falls Church, the first four new additions at the West Falls site were announced this week. The new additions are Tierra Encantada, Seoul Spice, BurgerFi and Mason's Famous Lobster Rolls. All four will all be located in the site's pedestrian-friendly retail corridor, which will connect modern residences, a hotel, medical office space, shopping, dining destinations, cultural space and outdoor community space, while contributing to the vibrant energy of the neighborhood.
"As we approach substantial topping out at West Falls, the largest development in the history of Falls Church, we are pleased to announce the first line-up of retailers coming to the neighborhood. With over 18,000 square feet of open space for community use along with modern residences and exciting retail concepts, West Falls will serve as a dynamic destination and vibrant community in the heart of West Falls Church. Each of these new businesses will bring something unique to the neighborhood, and we look forward to sharing more additions to this community in the near future," said Shawn Seaman, President of Hoffman & Associates.
The following new retailers will bring unique dining and service experiences to West Falls, offering something for everyone. Each plan to open to serve the neighborhood by Fall 2024.
Tierra Encantada is to open its second of fifteen locations in Northern Virginia, which will include 10,000 square feet of space, at 7131 Magnolia Street. This early education and preschool program focuses on promoting early cognitive development and respect for diversity with a fully Spanish curriculum, a play-based learning model, and daily scratch-made meals from organic ingredients.
Seoul Spice, a quick service restaurant known for its Korean comfort food, plans to open a new, over 2,000-square-foot location at 150 West Falls Station Boulevard. This will be Seoul Spice's eighth location in the DMV, expanding further into the Northern Virginia market and reinforcing the company's commitment to serving delicious and nutritious gluten-free Korean cuisine.
BurgerFi, a popular fast-casual burger concept, will open a new over 2,000-square-foot location at 170 West Falls Station Blvd. With over 125 restaurants domestically and internationally, BurgerFi is a chef-founded concept offering a casual dining atmosphere with award-winning American cuisine. BurgerFi uses 100 percent natural American Angus beef with no steroids, antibiotics, growth hormones, chemicals or additives and offers a diverse menu including their award-winning vegetarian VegeFi® Burger, Wagyu Beef, Cage-Free "Fi'ed" Chicken Tenders and Sandwiches, Fresh-Cut Fries and Beer-Battered Onion Rings, Frozen Custard Desserts, beer, wine, and more.
Mason's Famous Lobster Rolls will open at 235 West Falls Station Blvd with 1,375 square feet – its largest location yet. Mason's Famous Lobster Rolls is the largest lobster roll brand in the U.S., bringing the luxury of lobster to all at an affordable price point and casual environment. Mason's uses simple recipes and the highest-quality lobster sustainably sourced directly from Maine.
West Falls will serve as a gateway to the City of Falls Church. The neighborhood will be pedestrian-friendly and offer bike paths in addition to being conveniently located near the West Falls Church Metrorail Station as well as Leesburg Pike (Route 7) and Route 66, which are both key connectors of the DMV region. West Falls will feature The Commons, an outdoor community gathering space in the center of the neighborhood that will provide over 18,000 square feet of open space for community use, in addition to public art, apartments, condominiums, senior living, retail, hotel, medical office and cultural space.
West Falls is the first component of a larger 40-acre community-focused development of the area between Leesburg Pike and the West Falls Church Metrorail Station. This larger development is intended to add an active and pedestrian-friendly area to the vibrant neighborhood that fosters community, sustainability and innovation.